Nepal Links
Nagarkot - The Everest glimpses

Nagarkot located 32 km east of Kathmandu, Nepal in Bhaktapur district in the Bagmoti zone. At an altitude of 2195 meter, Nagarkot is considered as one of the most scenic places in eastern Nepal. The spectacular view of the Himalaya, that goes from Dhaulagiri in the west to Mt. Kanchenjuga in the east, along with Mt. Everest ( Sagarmatha), Manaslu, Ganesh Himal and Langthang is really megnificient. Nagarkot is also renowned for spell bounding sunrise which makes the ever lasting memory of life.
Nagarkot has become more popular because it is one of the best places to get glimpses of the highest summit in the world, Mt. Everest. Nagarkot offers an excellent view of the Indrawati river valley to the east. Nagakot also offers a panoramic view of Kathmandu valley. Between October to March weather normally is clear and it usually perfect time to get a good view of the Himalayan mountains.
The first tourists are thought to have been a troop of Punjabi mercenaries recruited to defend the Valley against Prithvi Narayan's troops.
Many visitors prefer to visit Nagarkot in the spring when surrounding valleys break out in a rich kaleidoscope of different coloured flowers. The flowers are beautiful against the serene backdrop of the snow-covered mountains. Ever popular among the tourists are the short treks and picnics which Nagarkot offers. Treks from Nagarkot are unique and delightful. Some good walks are down to Sankhi, Sundarijal, Changu Narayan, Bhaktapur, or to Banepa. For anyone who wants to have an adventure without exerting much efforts, a hike to Nagarkot's surrounding areas would be a good option. One can traverse short distances on trekking trails and come close to nature's wonders such as the outer of verdant forests, flower-covered meadows and unusual rock formations.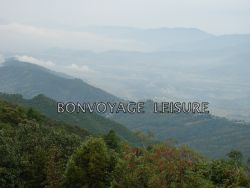 Bird watching is a joy in the forests here. Short hiking options abound. The most popular walk leads down from Nagarkot along a ridge to the temple of Changu Narayan - with views of Sankhu village to the right and Bhaktapur to the left.
---