Rabangla Links
Ravangla – A Sleepy Hamlet
Ravangla Tour, Places to visit in Ravangla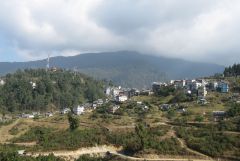 Ravangla – a small sleepy hamlet on Gangtok – Pelling Hihgway at an elevation of around 8,000 ft. on the ridge between Meanam & Tendon hills is becoming a new tourist hot-spot in South Sikkim, owing to its magnificent view of mountains & serenity. Cluster of snow capped mountains including Mt. Kanchenjunga, Mt. Pandim, Mt. Kabru & Mt. Sinialchu offer one of the spectacular backgrounds. Ravangla is a perfect destination for village tourism, flora and fauna, mountains, waterfalls, tea gardens, quaint villages, local Sikkimese people, culture, monasteries and fresh cold winds. Ravangla itself has scrub forest which attracts a rich variety of Himlayan birds.
Upper parts of Ravangla experience snowfall during winter. And during May-June this small town is engulfed by riot of colour by flowers. The township comes alive during the Pang Lhabsol festivities the spectacular Warrior Dance is performed. Ravangla and its surrounding areas are ideal location to observe the Sikkimese heritage and culture. A trek down to the sacred cave " Shar Chok Bhepu", one of the four holiest caves in Sikkim would be a memorable experience.
Despite being famous for its scenic beauty Rabangla offers start off some beautiful short trek routes.
For Ravangla Tour & Hotel Booking
►

Call Us : +91 9733047323 /

9733007085
Or ►

Mail Us

: bvlquery@gmail.com
Or ► Fill Up the Below BOOK NOW FORM and send your query to Us

---