Nepal Links
Manakamana Temple - The fulfilling wishes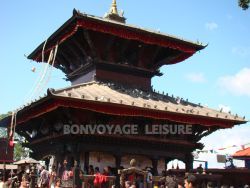 Situated on the top of a 1300 meter hill , surrounded by a small village community in gorkha district of Nepal, 105 km west of Kathmandu the Manakamana Devi temple is a highly venerated sacred place of Hindu Goddess Bhagwati. The name Manakamana derived from two words, Mana means the "Heart" or "Soul" and the Kamana means " Wish". It is believed that the Goddess fulfills the wishes of the people who worship her with a pure heart. There is a tradition of sacrificing animals at the temple.
The history and location of the Manakamana Devi temple are explained by a curious legend. The Queen of the Gorkha King Ram Shah possessed divine powers – a fact that only Lakhan Thapa, her only devotee knew that. Even the King was unaware of it. One day King became aware of queen's secret when he saw her in the form of Goddess. Immediately after the King passed away mysteriously and the Queen, as was the custom of the day, committed sati (ritual immolation) upon her husband's funeral pyre. Prior to her death, the Queen had promised her devotee Lakhan Thapa that he would soon again see her. Some time later while plowing a field, a farmer discovered a stone from which blood and milk were pouring. When Lakhan Thapa learned of this he was convinced it was a sign from the dead Queen. The flow of blood and milk ceased when Lakhan Thapa worshipped the stone in tantrik rituals. The site became the foundation of the present day shrine Manakamana Devi temple
The current priest at the temple is the 17th generation descendant of Lakhan Thapa. Manakamana is only one of very few of its kind of temples where priest is from Magar community of Nepal.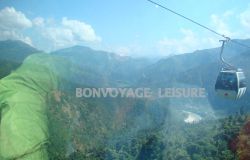 Renovated many times over the centuries, the the Manakamana Devi temple has a four-tiered pagoda style roof with the entrance facing South-West. The Manakamana Devi temple is set in a square, which is overlooked by an enormous sacred magnolia tree. Two popular festivals, Dasain (in September-October) and Nag Panchami (July – August), draw large numbers of pilgrims from throughout the country.
The Mankamana temple overlooks terraced fields, and the Trisuli and Marshyang-di river valleys. The hilltop (1302m) also offers a vantage point for taking in the breathtaking view of the Manaslu, Himalchuli and Annapurna massifs to the north.
In the past pilgrims used to make a long and arduous 2-3 days trek up to the hilltop temple from the town of Kurintar on the Trisuli River . Now-a-days there is a cable-car service, the only cable-car in Nepal from Kurintar to Manakamana. The cable-car takes only 10 minutes to cover 2.8 km distance.
---