Andaman Islands Links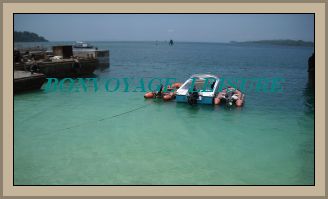 Havelock :
Situated nearby Port Blair, Havelock a 100 sq.km island has great white Sand Beaches and clear water and a haven for Large Fishes, Turtles and Dolphins. Havelock island is an ideal location for Sunbathing, Beach Combing, Swimming, Surfing, Beach Camping and Snorkeling. This island also offer the mesmerizing natural beauty. Havelock Island has been chosen by the govt. to turn into a luxurious tourist destination. The Coral Reef of the Havelock Island is still intact.
Havelock Island is lying north of Neil and mostly inhabited by Bengalis. The villages in this picturesque island are identified with the numbers. Only the northern part of the island is populated. But the serenity and solitude can be found in the rest of the island.
Havelock Island is one of the few islands in Andaman where foreign nationals are permitted to stay overnight. The island can be approached from Phoenix Harbour in Port Blair by boat. Journey towards Havelock sometimes becomre more interesting if the boat is escorted by group of Dolphins or giant Tortoise and Flying Fishes can be spotted.
---