Places To Vist In Kolkata Links
Nicco Park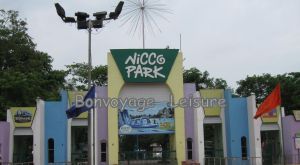 Nicco Park is the Disneyland for Kolkattans with its various adventure rides. Popularly known as Jheel Meel. Opened in 1991, Nicco park is one of the biggest amusement parks in India and has innovative entertainment for all age group. This amusement park offers wholesome fun for children as well as adults and draws crowds from suburban Kolkata especially on the weekends.
Set up in an area about 40 acres, Nicco Park is a wonderful place for picnics or freaking out with kith and kin. It is a feast for the eyes of the nature lovers. It is even wonderful fro sightseeing and simply lazing around. Nicco Park is located in the Salt Lake fringe of Kolkata city.
Nicco Park has a beautiful natural façade attached to it. It is truly a feast to the eyes of those who have a preference for greens. The spectacular Rose garden, which provides the touch of serenity to the excitement of the park, attracts the nature lovers to Nicco Park.
It provides wide choices of fun rides to choose from. To name a few, Nicco Park has the Toy Train, Cable Car, Tilt-a-Whirl, Water Chute, Water Coaster, Flying Saucer, Pirate Ship and Moonraker. Cave ride that is very interesting and adventurous.
There is an exquisite Rose Garden and a large Food Park which sells mouth-watering North Indian, Bengali, South Indian and Chinese fast food. The nature lover would simply love to recline on the bed of soft green grass and watch the clear and mackerel sky above. There are severel Kiosks in the park run by reputed restaurants of Kolkata which cater to all tastes with its multitude of palatable cuisines.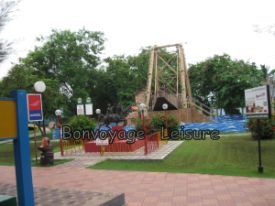 Nicco Park has the proud distinction of obtaining ISO 9002 certification from a well-known European Certifying Authority. It was the first amusement parks of its kind in the world to get this prestigious certificate.
There are several places near Nicco Park, which provide an opportunity of sheer fun expeditions. Nalban Lake, along with its boating complex and lush greenery, is a must-see. Subhash Sarovar is another place to visit.
---