Zuluk Links
Zuluk Information, Zuluk tour packages - Old Silk route tour
For Different Zuluk Tour/ Old silk Tour Package : Please Find in the Box
Trade linkages between British India and Tibet through the passes of Sikkim dates back to the late 18th Century. The adventurous Younghosband Mission launched from Sikkim with a military escort during 1903-04 accomplished it's task in reaching Lhasa through the famous Old Silk Route thereby leading to 1904 Convention that firmed up Anglo-Tibet trade. The ancient Silk Route, that used to connect Lhasa in Tibet and Kalimpong via Jelep-la ( "la" stands for mountain pass) and onwards to the rest of the world was in uses even a few decades ago till the China invaded Tibet.
Zuluk is an abode of peace. Situated at an altitude of around 10,000 ft above the sea level and perched on the rugged terrain of the lower Himalayas in East Sikkim, Zuluk is a hamlet close to Indo-China border. Zuluk is located on the famous Old-Silk-Route. Zuluk is a relatively new offbeat destination of Sikkim and has a primitive charm.
Zuluk was commonly used by traders travelling to Tibet through Jelep-la as an overnight base. There are around 700 people residing in Zuluk. These people are mainly immigrants from Nepal.
Zuluk is the name of the valley with a small hilly village and famous for the zig-zag roads which is a definitely an eye catching landscape. Zuluk offers excellent view of sunrise on Himalayas. There is a place called Ganek, which is situated at the height of 10600 ft which is famous for its exquisite view of sunrise at dawn.The rising of the sun is a phenomenon which is beyond description. During the sunset the ladscape view become more breathtaking. The snow-capped peaks of the Himalayas along with the guardian of the Sikkim, Mt. Kanchandzongha make an excellent showcase in the entire north.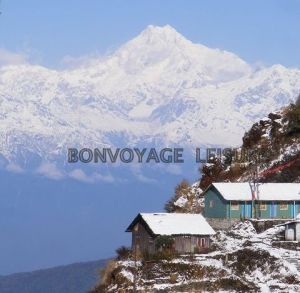 Winter is severe in Zuluk with heavy to very heavy snowfall and freezing temperature while summer is wet and foggy. During the summer, Zuluk and its surrounding hills are covered with thousands of blooming rhododendron. Zuluk during these months, is a riot of colors due to the variety of rhododendron that can be seen here.
In the travel circuit this territory has been opened to the tourists very recently. Even now most of the route is restricted area due to its international boundary with ( Tibet) China and the route is controlled by the Indian Army named as – " Cloud Warriors".
Surrounded by virgin wild forests, Zuluk is full of nature's boon. Zuluk has large diversity of the Himalayan fauna. It's quite common to get a view of variety of birds such as Monal Peasant, Blood Peasant, Snow Peasant, Khaleez Peasant and others. Viewing Red Panda is a rare luck in Zuluk. Himalayan Weasel are also can be seen in capering mood.
In Zuluk, there is no conventional Hotel or Resort. Some home-stays are there which run by local people with attached bath and basic necessities. But those home stay cottages are clean and hygienic. Room Heater or fire Places which are called " Bukhari" in local language arrange by home-stay owners to make bedroom warm and comfortable.
For visitng the Old-Silk Route and Zuluk and the above places tour starts from Siliguri – Kalimpong – Pedong – Rhenok – Aritar – Lingtam – Zuluk – Podemchen – Zuluk – Old baba Mandir - Nathang Valley – Tukla Valley – Kupup – New Baba Mandir – Tsongo Lake and further goes to Gangtok.
Bonvoyage Leisure has designed, promoted and arranged Zuluk tour packages, local sightseeing in Zuluk and surrounding places to visit of Zuluk along with Zuluk holidays for tourists' attractions. Bonvoyage Leisure has developed Zuluk tour packages for not only highlighting and sightseeing tours in Zuluk but also around and short distances from the city, i.e Thambi view point, Lungthung, Kalipokhri Lake, Old Baba Mandir, Nathang Valley, Tukla Valley, Hati Lake, Menmecho Lake etc. Bonvoyage Leisure assures its esteemed guests for providing them the best tour packages in Zuluk.
---