Gorumara - National Park Links
Places around Gorumara National Park / Places to visit from Gorumara National Park :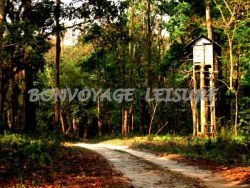 Tourists can make Gorumara a hub to visit some beautiful places in Dooars. Following places can be visited within a short time span….
Jhalung is located 45 kms from Gorumara National Park on the bank of river Jaldhaka. It's a small township famous for its natural beauty and Jaldhaka Hydro electric project.
Bindu :
Bindu is 22 kms away from Jhalung and the last village of West Bengal in India and Bhutan border.
Samsing offers one of the best view of nature, tea gardens and forests.
Suntaleykhola :
Suntaleykhola is located on the bank of river Murti and few kms ahead of Samsing.
Chapramari forest in Western Dooars is famous for its abundance for Indian elephants. Chapramari Wildlife Sanctuary has only 9.6 sq. km covered area. It is located near the National Highway 31 A connecting North East with the rest of India and on the northern side of Gorurama National Park in the Nagrakata block of Jalpaiguri district and on the eastern block of river Murti.
Dhupjhora in Dooars is situated on the south Gorumara forest range and on the western bank of Murti river. Dhupjora Elephant Camp popularly known as Gachbari or tree house is an unique concept of eco tourism by the forest department.
Kalipur Eco Village is an another unique example for eco tourism in Dooars. Located at the heart of Gorumara National Park and on the upper reaches of the flood plains of Murti and Jaldhaka rivers, Kalipur Eco Village is enriched with abundant nature and wild lives.
Murti in Dooars is an ideal place to stay for sometime in the pristine beauty of the virgin forest. Murti village is located on the bank of river Murti cutting through the Gorumara National Park . Murti is just a few kms away from the main gate of Gorumara forest. Styaing in Murti is an unique experience.
---