Hills Of Sikkim Links
Namchi – Sky High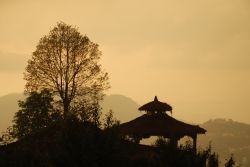 Namchi – meaning " Sky High", nestled among the hills and situated at an height of 5500 ft above the sea level. It is a small town and head-quarters of South District with immense potentialities of all round tourist activities. It is becoming a major tourist attraction in Sikkim for its superb panoramic view of snow clad mountains and vast stretches of valley. Namchi is well connected by road from all over the Sikkim and Siliguri in West Bengal.
In the month of February, the Namchi garden hosts it annual flower show. The flower show is the largest in Sikkim with flowers in a riot of colours. The prime attraction of this show is the display of exotic and rare orchids.
Places to visit in Namchi
Samdruptse
In Bhutia language , Samdruptse means " The Wish Fulfilling Hill". Samdruptse is located around 5 kms away from Namchi town and at an height of 7,000 ft. A 135 ft umique statue of "Guru Padmasambhava", also know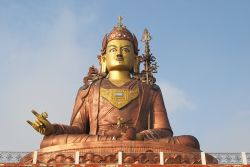 as " Guru Rimpoche", is installed on the top of the hill. In 1997, the Dalai Lama laid the foundation stone of the statue and it was completed in 2004. It is said to be the highest Guru Padmasambhaba statue in the world.
The awe inspiring towering statue is an architectural and engineering marvel. Samdruptse hill is believed to be a dormant vaolcano. Myths say that the Buddhist monks have been going o the top of the hill and offering prayers to the volcano to keep it calm.
Helipad
Helipad located 5 kms away from Namchi town and at an altitude of 5,000 ft above the sea level, offers the magnificent panoramic view of Mt. Kanchenjunga and other snow clad hill tops along with surrounding mountains, part of Darjeeling and Kalimpong hills and the plains of West Bengal. A view of Temi Tea Garden,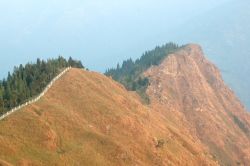 the only tea garden in Sikkim, sprawling over the hills is really breathtaking.
Rock Garden
Just below the Samdruptse, rock garden is located. It is an ideal place for day recreation and picnic. Rock Garden is full of Flora and offers a breathtaking view of Mt. Kanchenjunga.
---