Gorumara - National Park Links
Gorumara National Park Watch Towers & Jungle Safari:
Jeep Safaris and Watch Towers visit are the most demanding as well as interesting part while visiting Gorumara. Tourists enjoy watch tower visits and jungle safaris by jeep to have a better chances to see wild life and feel the jungle.
Gorumara National Park has five major watch towers which offer good facilities to watch wild animals from the near by. The watch towers are the following :
Jatraprasad Watch Tower :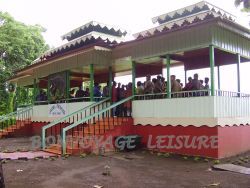 Jatraprasad Watch Tower in Dooars was established in remembrance of the most favourite pet elephant of the forest department after the deat of the elephant called Jatraprasad sometimes back. The two-tier watch tower offers the excellent view of the forest wilderness, wild lives and rivulets running through the Gorumara National Park. Jatraprasad Watch Tower is the most popular place among the visiting tourists in the park.
Rhino Observation Point / Rhino Observation Tower:
The Rhino Observation tower is located near the forest bungalow of Gorumara National Park. It's a small rhino view point from where there are chances to get glimpses of the famous one horned rhinos. And as there is a salt reservoir below the tower. So there are very chances to see more wild life like elephants apart from one horned rhinos.
Chandrachur Watch Tower ( Khunia Watch Tower) :
Chandrachur Watch Tower is also known as Khunia Watch Tower. Chandrachur Watch Tower offers the best view of wild lives and certain part of Gorumara National Park. This watch tower specially built for watching wild elephants and Indian bisons.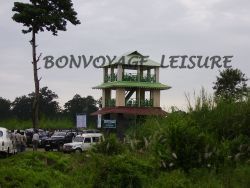 Chukchuki Watch Tower :
Chukchuki Watch Tower is the best place to see birds and it's called the birdwatchers' paradise. Apart from local birds there are number of migratory birds are seen from Chukchuki Watch Tower. This watch tower is located at the extreme end of Gorumara National Park.
Medhla Watch Tower :
A newly built watchtower offers the glimpses of the inner part of Gorumara National Park. Medhla Watch Tower is built on the vicinity of river Murti. From the watch tower visitors can watch the elephant herd is crossing the river or wondering rhinos or Indian bisons, deer etc. On a clear day Mt. Kanchenjunga clearly visible from Medhla Watch Tower. To make the watch tower more attractive to the visitors forest department have arranged buffalo cart ride to reach the tower.
Apart from watch towers visit there are some special jungle tours which are conducted by West Bengal Forest department inside of the Gorumara National Park.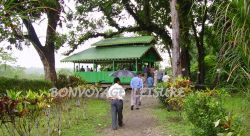 At a glance watch towers visit, Jeep safaris, bird watching, elephant safari, forest strolling, exploring forest villages and watching local cultural dances are the main activities in Gorumara National Park.
---