Destinations Links
Sillery Gaon tour packages, Sillery Gaon Tour
Sillery Gaon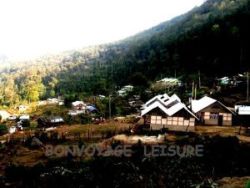 Situated at an altitude of 6000 ft in Kalimpong subdivision of Darjeeling hills Sillery Gaon – a pristine village is an ideal place to escape from bustling city life. Sillery – the name derived from a plant which grows in abundant in this part of the Himalayas. The area is also has a Cinchona plantation which was introduced by the former British rulers as a source of Quinine. Sillery Gaon offers the majestic view of Mt. Kanchenjunga and other surrounding snow peaks.
This small hamlet has a very few population of around 25-30 families are residing here. They are friendly and always ready to welcome guests with smiling face. The basis profession of these people is agriculture. But now-a-days Sillery Gaon has become popular tourist hotspot. So the people of the village have now embraced Eco-tourism and it has become an alternative money earning source.
Sillery Gaon has always a soothing weather and it makes the place an all season visiting place except monsoon. The village is surrounded by tall pine trees and the only interruption is the chirping sounds of birds. The location of Sillery Gaon is unique and from here anyone can see almost 180 degree view of the Himalayas – as Nepal on the west, Sikkim on the north and east and Bengal on its south.
At a glance Sillery Gaon is a place which offers exceptional natural beauty and to lure spending some peaceful time here.
Places to visit in Sillery Gaon/ Sightseeing in Sillery Gaon :
Ramitey View Point :
Ramitey View Point is just 3 km away from Sillery Gaon and can be accessed either by vehicle or trekking. Ramitey View Point offers the breathtaking view of Mt. Khanchendzonga and its neighbouring snow clad peaks along with the longest view point of river Teesta through the valleys with its 14 bends and the confluence of river Teesta and Reshi – a rare sight indeed. On a clear day the entire region from Teesta Bazar to Majhitar in Sikkim is cleary visible from Ramitey View Point.
Tinchuley View Point / Tinchuley Top :
A stiff uphill 30 mts trek is enough to reach Tinchuley View Point or Tinchuley Top offers a magnificent 360 degree view of the Himalayan ranges along with the guardian of all hills – Mt. Kanchenjunga. On a clear day Nathula Pass and Jelep la are visible from here.
Damsang Fort :
An one hour trek from Sillery Gaon covering around 4 km leads the road to the nearly ruined Damsang fort. This fort which had been built in 1690 by Lepcha Kingdom was the nerve centre of ethnic violence between Lepchas and Bhutias. The another reason to built the fort was to stop aggression by East India Company. This fort is only 1 km away from Pedong and road goes through pine forest offers magnificent view of surrounding hills and valleys.
It's an ideal place for bird watching. A little upward road from Damsang fort goes to the Hanuman Top where a sculpture of Lord Hanuman is placed. This Hanuman Top offers the excellent bird's view of Kalimpong town and adjoining areas.
Silent Valley :
Silent Valley is another interesting place to visit in Sillery Gaon. A vast tract of green pasture is surrounded by tall pine trees and only sound is chirping of birds resembles Switzerland. A descend from the main road, the sudden appearance of the green field makes visitor surprise . During monsoon Silence valley becomes a small pond. As per the old local residents it was originally a lake long before.
Cross Hill :
Cross hill is located at a vantage point, where in the view of the mountain is simply glorious. On any clear day Tibet is clearly visible from here and it's a perfect sunset point. Cross Hill is highly revered as a pilgrimage for the local Christian community and be frequently visited by them.
During 19th century number of Evangelists who travelled to Tibet for spreading Christianity lost their lives or never came back. In the memory of lost Evangelists in 1882 Fr. Augustine Desgodins erected a cross facing Tibet directly in the hope that they will come back.
Sillery Gaon Tour Packages
Places can be visited from Sillery Gaon :
Kalimpong !! Pedong !! Aritar !! Rikkisum !! Lava !! Loleygaon !! Rishap !! Charkol !! Zuluk
---