Sightseeing In Shillong Links
Sightseeing In Shillong

SHILLONG PEAK :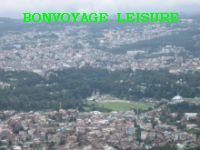 At a distance of 10 km from Shillong city and located at the height of 1961 m above sea level, Shillong peak is the highest point of Meghalaya. The peak offers a magnificent panoramic scenic beauty of lush green landscapes and cascading waterfalls of the country side as well as the bird's view of Shillong town. The Shillong peak is often shrouded with fog.

It is also an ideal picnic spot. Obeisance is paid to U Shulong at the sanctum sanctorum at the peak's summit every springtime, by the religious priest of Mylliem State. In the evening the city lights below appear like a star-studded abyss.

The peak itself is not steep, but rather semi-circular like that of a crown placed on the flat and extensive top of the Shillong Hill. A physically fit trekker can go to the summit on foot also. On a very clear day Himalayan Peaks are visible in the north and plains of Sylhet in Bangaldesh can be seen from the peak.



---