Places To Visit In N Sikkim Links
Gurudongmar Lake
At an height of around 17,000 ft. , surrounded by snow capped mountains and alongside a glacial peak which is known by the same name, Gurudongmar Lake is one of the highest lakes in the world. This milky white lake is one of the most sacred for both Sikhs and Buddhist people and number of pilgrimage come every year to offer their prayer.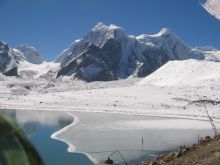 The water of the lake becomes complete frozen during the winter except one part, which is believed to be blessed by Guru Padmasambhava while returning from Tibet. The blessed water of the lake is considered to have miraculous power of granting to issueless couples. This lake got its name from Guru Padmasambhava, who is also known by Guru Dongmar as well.
Gurudongmar Lake lies in a high plateau on the northern side of Kanchenjunga range and adjacent to Tibetan plateau, close to India – Tibet ( China) border.
Gurudongmar Lake is one of the source stream of river Teesta. Close to the lake there is a "Sarbar Dharma Sthal ( House of worship for all religions)" which was built by Govt. of Sikkim.
Due to the extreme inhospitable terrain and difficulties associate with reaching the lake, handful of people visit this place every year. This area is full controlled by Indian Army and access to this lake is strictly monitored by them at the check-post located at Giagong. Owing to the altitude, there is a scarcity of Oxygen. Gurudongmar Lake is worth visit for its beauty and natural slendor. Visiting this lake is permissible only for Indian Nationals.
---