Places To Visit In N Sikkim Links
Yumesamdong
Elevated to the height of 15,000 ft. and an hour journey from Yumthang Valley through rugged mountain road, Yumesamdong is a place of perennial snow with its astounding scenic beauty and a land where the sweet aroma of Azalea flowers pervades the atmosphere.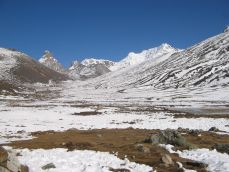 This inhospitable valley is only explored by nomads and their yaks for grazing. Yumesamdong is enriched and eminent for its 14 nos of Sulpher hot springs which are believed to have healing power from skin problems after having a bath.
Exotic splendor of this place to make a visitor engrossed to this place.
---