Places To Visit In Gangtok Links
Tsomgo Lake ( Changu Lake)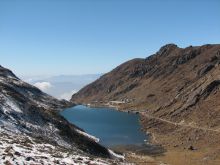 Tsomgo Lake is considered very sacred by local people and literally means the "Source of the Lake", in Bhutia language and perhaps one of the most beautiful landscapes in Sikkim. This lake is located around 35 km away from Gangtok town on Gangtok – Nathula Highway and at an altitude of 3,780 mts or 12,400 ft. Within this 35 kms journey span the road elevates a whooping 7,500 ft with breathtaking view and number of hair pin bends. It is interesting to watch how within half an hour journey the character of the hills abruptly change.
This oval shape lake is 1 km long and 15 mts in depth derives its placid water from melting snow of surrounding hills gives birth of the river named Lungtze Chu, which further meets Rongpo Chu down in its course. Changu Lake is a winter residence of migratory Birds and Brahmani Ducks. On the bank of the lake there is a small temple edicated to Lord Shiva. Half a kilometer walk on the pavement along with the lake takes to a resting shade on the other side of the lake where a visitor can spend sometime to relax and enjoy the beauty of the nature. Having fun on Yak riding also available here. Local people have established shops for selling Yak milk and other curios. Number of small restaurants are there to provide fast food and hot tea and coffee.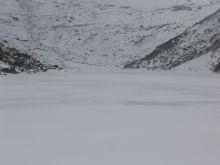 This placid lake becomes completely frozen during the months of winter and surrounding hills loom large as white guardians, guarding the sacred lake. Between May to August variety of flowers including Rhododendrons, variety of Primulas, blue and yellow Poppies, irish are in a full bloom to provide a spectacular view of the hills as well as the lake. It also serves as the residence of red Panda and varieties of Birds.
Tsomgo Lake comes under the restricted area and it is controlled by Indian Army. Visitor permit is must to visit this place.
---