Bhutan Links
Phuentsholling : Gateway to Bhutan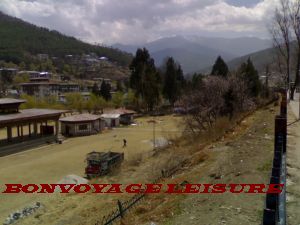 The gateway to the South Bhutan, Phuentsholling is a thriving commercial town located on the northern edge of Indian plains. This place is a beautiful misture of Indian and Bhutanese culture. This modern town doesn't have any old charm of Bhutan other than its beautiful location at the Himalayan foothills. Phuentsholling is covered by lush green forested hills except to the southern side.
Amo Chu, which is commonly known as river Torsha in India, flows through the city and its bank is a favourite location for fishing and a day picnic. Phuentsholling is in the heart of Bhutan's southern sub-tropical zone. No other nationals other than Indians are allowed to enter the city without having the valid Bhutanese visa.
Above 1300 ft. of the town, Kharbandi Gompa – a beautiful monastery is situated. It was founded by the Royal Grandmother, Ashi Phuntsho Choedron in 1967. The inside paintings depicting the life of Lord Buddha. Views of the Phuentsholling town and the plains of West Bengal from the garden surrounding the monastery are splendid.
Thimpu ( 7,800 ft) – The capital of Bhutan is 175 kms away from Phuentsholling and it takes around 6 ½ to 7 hrs. to reach.Visitors never become tired during this long journey as the beauty of the nature will never let anyone becomes tired. High hills and deep ravines make visitor cool. It is rare to find such deep ravines in this eastern Himalayas… After crossing the numerous hills and fountains which makes journey more beautiful Thimpu arrives.
Destinations in Bhutan :
Thimpu :: Paro :; Punakha :; Wangdi / Wangdu :: Bumthang :: Ha
Find following Bhutan tour packages and book at Bonvoyage Leisure :
Click the Following Links :
---