Lepchajagat - Darjeeling

Lepchajagat – literally means the place of Lepcha people or Lepcha community. Lepcha people are originally from Sikkim. But now spread over in Bhutan, Tibet, Nepal, Darjeeling hills. Lepchajagat is a very small village in wilderness with an altitude of around 7000 ft above the sea level. The village is covered by wild forests of rhododendron, pine and oak with bounty of natural beauty. Mount Kanchenjunga with its surrounding peaks stands with its full might on the north-eastern side of Lepchajagat. This is an ideal place for nature lovers to stay in an offbeat place with a blend of nature and peace. The only sound here is chirping of numerous birds during day time and the sound of cricket after the evening.
Activities / Things to do in Lepchajagat :
As nature is full blown here, so roaming in the nature with the company of wild forest, numerous birds, sea of mountains and silver glazing Kanchenjunga can be the main activity here. Lepchajagat offers good views of sunrise and sunset. There is a place called Ghoom rock, which is around 1.5 kms away from Lepchajagat and can be covered the distance by trekking with an altitude of 7900 ft offers spectacular view of sunrise. This place also offers a clear view of the Balasan Valley. At night Darjeeling town looks like a hill lit up in Deewali lights. Lepchajagat is also an attractive place for bird lovers also.
Places to visit in and around Lepchajagat :
Lepchajagat can be a centre for visiting number of another beautiful places around. These places are :
► Darjeeling – the queen of the Himalayas is just 18 km away and a 45 mts drive.
► Ghoom Monastery is 10 kms away
► Jorepokhri – a sleepy village on the hill top is a 5 km drive. Jorepokhri is a place for spectacular view of Kanchenjunga and having a beautiful pond and rare Himalayan Salamanders.
► Mirik is 25 kms away with full of natural beauty, a natural lake – called Sumendu Lake and green forests.
► Pasupati Market located at India – Nepal border is 15 kms away. Only Indian citizen with valid ID card are allowed to enter in the market.
► Maneybhanjan a very small and beautiful place with natural beauty is 15 kms drive. It is located on the India – Nepal border. Sandakphu trek starts from Maneybhanjan
How to reach in Lepchajagat :
The nearest airport of Lepchajagat is Bagdogra ( 85 kms – 3 hrs ) and railway station is New Jalpaiguri Railway Station ( 95 kms – 3.5 hrs). Both the airport and railway station are well conntected to all the major cities in India. Easiest way to reach here via Mirik – Sukhiapohri route .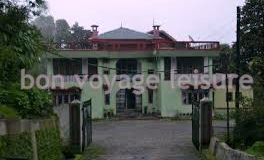 Where to stay in Lepchajagat :
There are not plenty or variety of accommodations are here. West Bengal Forest Development Corporation ( WBFDC ) Lodge is to offer comfortable stay with amenities. Apart from it, there are few home stays which are also good for staying.
For Lechajagat Homestay - Lodge Booking / Lepchajagat Tour :
Call Us to
: +91 9733007085 / 9733047323
Mail Us to : mail@thetourindia.com / bonvoyageleisure @gmail.com

Booking Procedure / Terms & Condition/ Cancellation Policies for Lepchajagat Tour
For making query or booking Lepchajagat Tour, kindly Fill-Up below BOOK NOW FORM
---