Guwahati Links
GUWAHATI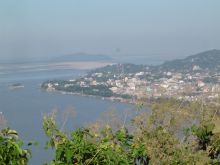 Formerly known as "Pragjyotishpur" or " The City of the Eastern Lights", Guwahati is the largest city in North Eastern Part of India. Located on the banks of the mighty river Brahmaputra, which splits the city into two parts and surrounded by mystic blue hills, is often called " The Gateway to the North East". The capital of Assam named Dispur is situated on the outskirt of Guwahati town.
Guwahati city's etymological root is derived from two Assamese words, 'Guwa" meaning Areca Nut and " Haat" meaning Market. It is one of the fastest growing cities in India and during the last few decades the city has experienced unprecedented spatial expansion and steep rise in population. The large Oil Refinery at Noonmati on the northern outskirts symbolizes Guwahati's recent growth and prosperity.
Guwahati is an important administrative and trading centre and a river port. The Tea Auction Centre in Guwahati is one of the largest in the world. Guwahati's climate is mildly sub-Tropical with warm, dry summer from april to late may, a strong monsoon from June to September and cool, dry winter from late October to March.
Guwahati is well connected by Air and surface with the rest of the part in India.
---