Places To Visit In Zuluk Links
Nathang Valley ( Old - Silk - Route) :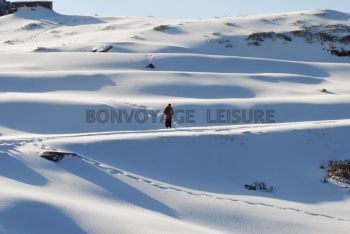 Gnathang Valley or Nathang Valley is popularly called the " Ladakh of the East India". Situated at the height of 13,500 ft. above the sea level Nathang Valley is one of the most beautiful places in Old-Silk-Route. Surrounded by snow capped hills and mountain landscape Gnathang Valley offers an astounding view of Mt. Khanchendzongha. Mt. Kanchenjunga seems to be a stone throwing distance from Nathang Valley. Viewing majestic beauty of Eastern Himalaya during sunrise from Gnathang Valley is a life-long memorable experience. Chinese Watch Towers are clearly visible from Nathang valley in naked eyes.
There is a small number of people are living in Nathang Valley along with a Krishna Temple and a Monastery.
During winter Nathang Valley becomes a cold desert as the valley has been covered by thick snow and snow fall is very regular. It is bit difficult to describe the beauty of Nathang Valley in words. But indeed it is a heavenly place on this part of earth.
---