Buxa Tiger Reserve Links
Flora and Fauna in Buxa Tiger Reserve - Dooars :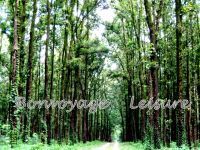 Buxa Tiger Reserve forest has rich variety of Flora and Fauna. Due to heavy rainfall tropical rainforests and Savannah forests are abundant. Buxa Tiger Reserve is also home for variety of unique plants. Main species of Flora in Buxa Tiger Reserve are Sal, champ, Gamar, Simul & Chikrasi. Apart from the above around more than 300 species of trees, 250 species of shrubs, 400 species of herbs, 9 species of cane, 10 species of bamboo, 150 species of orchids, 100 species of grass and 130 species of aquatic flora including more than 70 sedges (Cyperaceae) have been identified so far. There are more than 160 species of other monocotyledons and ferns.
Around 284 species of birds and numerous butterflies add colour to Buxa Tiger Reserve forest. Buxa Tiger Reserve has the highest number of fish species in North Bengal. Narathali Lake is home to migratory birds as well as endemic ones. Apart from the above 76species of Mammals, 90 species of Snakes, 8 species of Amphibians have been identified. Apart from Tigers animals like Elephants, Leopard, Himalyan black Bears, Civets, Giant squirrel, Gaur, Wild dog, there are 04 spices of deer like -Chital, Sambar, Spoted , Barking and Hok deer. Another there Royal Bengal Tiger , Clouded leopard, Leopard , Wild Buffaloes, and Snakes including the Regal Python are found here. One of the rarest birds in India the Black – Necked Crane has been sighted in Buxa Tiger Reserve during winter.
Indian Tiger, Leopard Cat, Bengal Florican, Regal Python, Chinese Pangolin, Hispid Hare, Hog Deer are some endangered species in Buxa Tiger Reserve.
---