Bhutan Links
Bumthang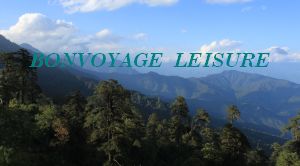 Bumthang - consists of four mountain valleys of Ura, Chumey, Tang and Choekhor ( also known as Bumthang valley) is the religious nerve centre of this Himalayan Kingdom. It also home to some of the oldest Buddhist monasteries and temples. Each of the four valleys in Bumthang has its own dialect.
Bumthang gets its name from the local language. " Bumpa" meaning a vessel for holy water, thus describing the shape and the nature of the valley or " Bum" meaning girl or valley of beautiful girls and "Thang" meaning field or flat place. It is said that Guru Padmasambhava and the Tentrons ( religious treasure discovers) still linger in this sacred valley.
Places to visit in Bumthang / Local sightseeing in Bumthang
Jakar Dzong
Jakar literally means – White Bird. According to legend, a white bird is said to have risen in the air and settled on a spur of a hill. Initially this Dzong was built as a monastery by the great grandfather of the first Shabdrung in the year 1549. Jakar Dzong is the administrative centre of this region and houses the regional monk body located beautifully over looking the Choekhor valley. Later in 1646, it was upgraded by shabdrung, when he finally established his power in the region.
Jambay Lhakhang
This monastery was built in 659 AD by the Tibetan King, Songtsen Gampo and is believed that on the same day Khyich Lhakhang in Paro have been built. The centre figure in the Lhakhang is Jampa, the Buddha of the future and it is one of the 108 monasteries which were built to subdue evil spirits in the Himalayan regions. The temple was visited by Guru Rimpoche during his visit to Bumthang and the present architectureal appearance made by Sidhu Raja dates back from the early 20th century after the Guru restored his life force.
Kurje Lhakhang
It is named after the body print of Guru Rimpoche which is preserved in a cave inside of the Middle Temple which is among three temples which consists Kurje Lakhang. It is believed that in the 8th century, Guru Rimpoche meditated on the rock against which the first temple was built in 1652. The middle one is considered as the holiest as the imprint of the Guru's body is found here. This temple was built by the first monarch of the Kingdom, Ugyen Wangchuk in 1900. The third one is newly built by H.M. Ashi Kesang, the queen's mother in the 1990s. The three temples are surrounded by 108 Chorten Wall.
Tamshing Lhakhang
Located across the river from Kurje Lhakhang, Tamshing Lhakhang is known as the temple of the good message. Tamshing Lhakhang was formed in 1501 AD by Terton Pema Lingpa, a re-incarnation of Guru Rimpoche. It is the most important Nyingma Gompa of Bhutan. There are very old religious paintings around the inner walls of the temple, which are believed to have been original images painted by Pema Lingpa himself.
Destinations in Bhutan
Phuentsholling :: Thimpu :: Paro :: Punakha :: Wangdi :: Ha Valley
Find following Bhutan tour packages and book at Bonvoyage Leisure :
Click the Following Links :
---