Jayanti Links
Places to visit in Jayanti - Dooars/ Activities in Jayanti - Buxa Tiger Reserve :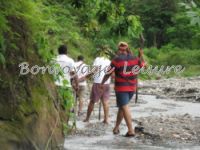 Trekking :
There are number of beautiful places around Jayanti Village which can be covered by short and medium time trekking.
Buxa Fort is a very popular destination among every kind of tourists. Rover's point is the heaven for bird watchers which is 3km ahead of Buxa fort. Hard trekkers can go ahead another 6 km to reach Roopam valley or Rupang valley bordering Bhutan.
Another small but beautiful valley called Lepchakhawa can be reached from Buxa fort by 5 km trekking. Adventure loving trekkers can take a route which starts from Buxa fort covers 13 km distance through dense forest and reach Jayanti village. But for enjoying the route a prior written permission is required from forest department and a company of an expert guide.
Pokhri Hill is a 4 km short and easy trekking from Jayanti village in Buxa Tiger Reserve.
Mahakal Cave – a natural stalactite cave which is also very famous for religion people as well as adventurers. Mahakal cave is just 13 km from Jayanti in Buxa Tiger Reserve.
Bhutia Basti
is just another interesting point to feel the smell of dense forest . Bhutia Basti is 1.5 km away from Jayanti. The thrilling journey starts from Jayanti crossing the Jayanti river and walk through the dense Buxa forest with chirping sound of numerous known and unknown birds, song of wild streams and the fragrance of virgin nature. Bhutia Basti also call the " Den of Elephants".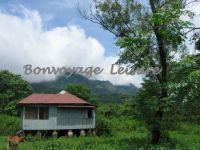 Jungle Safari :
Jungle Safari is also a very popular for visiting tourists staying in Jayanti. Jungle Safari by Jeep has been permitted by Forest Department in Jayanti.
---