Menmecho Lake ( Old - Silk - Route) :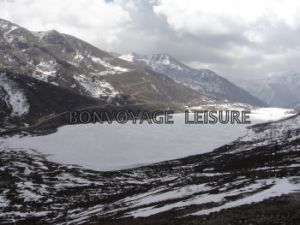 Menmecho Lake located in between Tukla Valley and Kupup. Menmecho Lake is the source of river Rongpo Chu ( in local language chu meaning river), one of the tributaries of river Teesta. It is a stunningly beautiful lake with snow cover from early winter to late spring. It is surrounded by a rich, varied forest and some rather interesting rock formations. Going near to Menmecho Lake is prohibited for tourists. It can be viewd from above and on the motorable road. Menmecho Lake is famous for trout.
Menmecho Lake lies below Jelep-la.
---