Jayanti Links
Jayanti - Dooars : Buxa Tiger Reserve
Jayanti in Dooars is a picturesque village at Buxa Tiger Reserve. Jayanti village may be the only place in India where visitors can spend overnight and enjoy the jungle in the core area of a Tiger Reserve forest. A beautiful place along with the meandering Jayanti river forming a natural border of Bhutan is one of the last destinations in Dooars which is till untouched by mass tourism.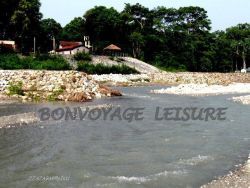 Often termed as the "Queen of Dooars," Jayanti is surrounded by heavily forested area is inside of the famous Buxa Tiger Reserve known for its tigers, leopards, elephants, deer, peacocks and the historic Buxa Fort and Mahakal cave. Encircled by dense forest and forested hills, soothing sound of Jayanti river blending with the chirping birds simply make to rejuvenate tired soul. A wide open Jayanti river bed is an added attraction with the lush green Jayanti hills stand erect standing on the opposite side of Jayanti village. From the Jayanti river bed breathtaking view of Bhutan hills is really enthralling. The combination of dense forest, Himalayan mountain ranges and Jayanti river make Jayanti like a picture postcard beauty. Walking through Bala river bed which comes just before entering Jayanti is an ideal place to watch birds, mainly peacocks. But venturing alone is risky as Bala river bed is also a favourite place for roaming of wild animals like leopards, elephants etc.
Jayanti village was once famous for dolomite mining. British government made Railways for dolomite transportation.
Getting Jayanti / How to reach in Jayanti in Dooars :
The nearest Railway Station of Jayanti is Alipurduar Junction or New Alipur. All trains going to Assam have stoppages in either Alipur Junction or New Alipur. From Alipurduar Jayanti is 32 km. From Siliguri the Jayanti is 217 km. The nearest airport of Jayanti is Bagdogra Airport ( 218 Km )
---