Places To Visit In Pelling Links
Rabdantse
In the vicinity of the famous Pemeyantse Monastery and just 02 kms from Pelling the ruins of Rabdantse Palace exists within a thickly forested valley. Rabdantse, the second capital of Sikkim after Yuksom was established in the year of 1670 by Tensung Namgyal, the second Chogyal ( Monarch). Rabdantse started becoming extinct from 1815 because of the threat posed by the Nepalese and the capital was shifted to Tumlong.
Presently the ruins of Rabdantse has been preserved by Archeological Society of India and is regarded as an archeological site. It is fully excavated and restored. Visitors can have a look to King's bed room, Assembly hall, Kitchen, Public Court Yard etc. This old capital of Sikkim is now a popular tourist hotspot and reminds the royal history of Sikkim.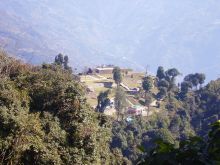 Rabdantse ruins is hidden inside the deep forest and can be approached by simple 02 kms walking over the footpath which branches off the main road amidst forest. From the top of the ruins the spectacular view of surrounding forested hills, deep valley and the omnipresent of mighty Kanchenjunga and other snow capped hills are simply mesmerizing.
Apart from its astounding scenic beauty the forest around Rabdantse also an ideal place to watch number of species of birds, like Scaly-breasted Wren Babbler, Steppe-Eagle, Striated Bulbul, Dark Breasted Resefinch, Chestnut Crowned Warbler etc.
---