Jayanti Links
Places to visit in Dooars around Jayanti - Buxa Tiger Reserve :
Jayanti is a place where visitors can easily spend some more days to enjoy the beauty of Jayanti and to visit around number of beautiful places in Buxa Tiger Reserve area and eastern Dooars. Place can be visited from Jayanti village are the following :
Rajabhatkhawa
is the main entry point to Buxa Tiger Reserve. A Nature Interpretation Centre is here.
Santarabari is the starting point of trekking for Buxa Fort
Raimatang
is a forest village inside of Buxa Tiger Reserve. Journey through river bed by car is really enthralling.
Coochbehar
the former capital of Coch Kingdom. Coochbehar is the only planned city in North Bengal with the charm of old royal heritage.
Narathali Lake is also a beautiful destination and located at the East division of Buxa Tiger Reserve Forest. It is a restricted place to visit. Only a writing permission from Forest Department can take the journey to Narathali Lake.
Chilapata
is a renowned and dense forest, but still it is yet to get any honour for National Park or Reserve Forest. Chilapata forest comes under Jalpaiguri district in eastern Dooars and closes to Jaldapara Wild Life Sanctuary . Enriched with flora and fauna Chilapata forest forms an elephant corridor between Jaldapara National Park and Buxa Tiger Reserve. The ecological boundary of Chilapata spreads along the banks of Bania river in the east and river Torsha in the west. Both rivers bring fresh monsoon alluvial to support and protect the grassland eco-system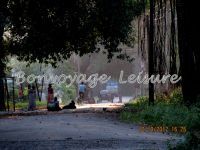 of the forest.
Buxa Fort is just 10 km away from Jayanti . Buxa Fort is one of the most popular tourist destinations for the visitors in Buxa Tiger Reserve. Buxa Fort located at the height of 2844 ft above the sea level offers the thrill and experience for the novice trekkers. The Fort is located 30 km from Alipurduar.
---