Places To Visit In N Sikkim Links
Yumthang Valley
Yumthang Valley is known as "Valley of Flowers" or the " Switzerland of India" - located at an elevation of 11,800 ft is a paradise for nature lovers with a fascinating blend of flora and fauna and breathtaking scenic grandeur. The astounding beauty of the nature, an awe-inspiring spectacles of alpine pastures, different colours of rhododendrons forests, snow-clad-peaks of the Himalayas make this place – A HEAVEN ON EARTH.
For many years this magnificent valley has been inaccessible for the visitors due to its proximity with the boarder of Tibet.
Yumthang Valley is only 25 kms from Lachung – which is the nearest habitat place to the valley. Journey to the Yumthang Valley from Lachung is lined with multi coloured rhododendrons and orchids. April and May months are the ideal time to visit this beautiful valley as during these months one can get a LIFE TIME EXPERIENCE to see the wide picturesque landscape, multi coloured rhododendrons with numerous variety of orchids which bloom in types of colours. Yumthang is located on a flat valley and is the near tree line as the surrounding hills looking like touching the sky.
Yumthang Valley is totally covered by thick snow during the Winter. It is a very peculiar feature of the valley is that during summer it's a flower bed and during winter it's a snow bed. During Summer this valley provide the grass land to the roaming Yaks. A tributary of river Teesta ( Lachung Chu) flows through the valley to make it more mesmerizing beauty. Apart from its own astonishing beauty Yumthang also offers an eye – catching vista of Himalayan Peaks along with Pauhunri and Shundu Tsenpa.
Yumthang Valley also embraces the renowned Shingbha Rhododendron Sanctuary with 24 species of Rhododendron. What is particularly interesting about the rhododendrons of the Yumthang valley is that they bloom in different colours unlike those in other parts of
Sikkim
which are usually red.
Another attraction of the valley is a N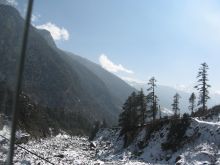 atural Hotspring which is said to have offer relief of skin ailment who takes a bath in the spring. This hot spring located a few hundred metres away from the road across a pedestrian bridge on the River Lachung. For the convenience of bathers a hut with two pools in which the hot spring water collects has been constructed. Hot water rich in sulphur, emanates from a spring just behind the hut and is diverted to the pools. It is difficult to imagine that water so hot in its natural form could be found in a place so cold.
The bounty of the nature, sky kissing mountains, green meadows, flowing river, hot spring make this valley a visitors dream place to visit and to enjoy the beauty without any sort of infringement.
---