Arunchal Pradesh Links
Dirang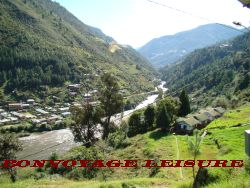 Situated at an altitude of 4910 ft above the sea level, Dirang a beautiful hill station comprises of Tribal Mahayana Monapas sharing their traditions and heritage which are similar to Western Bhutan. Dirang is located on a picturesque valley in between Bomdilla and Tawang and due to its lower altitude than Bomdila the weather is much milder & comfortable, a constant wind blows along the river valley making it a very pleasant place to stay. The spectacular natural view of Dirang surely makes the visitors spell bound. The visitors find numerous beautiful natural objects of nature to pick from. Tourists are always free to squeeze the abundant beauty of nature. The high peaks and mountains of Dirang are irresistible for mountaineers and trekkers. They give maximum pleasure to the adventurous tourists.

Dirang is a Sub-divisional headquarters in the West Kameng District and well known for its Hot Water Spring and Apple Orchards apart from its mesmerizing natural beauty. It is also used as a base camp for trekking and bird watching at Mandla or Madla Phudong, which is situated at a distance about 28 km from Dirang. Dirang features unique flora & fauna, numerous medicinal plants have their habitat in this area.

Dirang Dzong or the locally known as " JONG" – the fort at Dirang was built in 1831 represent the authority of the King / Chief and also an importa centre of Public Administration is an important historical monument for the Monpas of Dirang circle. It was also the centre of Military and Judicial activities concerning the entire population within its jurisdiction. It is at a strategically located hill top and comprises of an array of four storied fortified stone buildings in which the entire village could take refuge at the time of war. It is the only one of its kind in the entire area.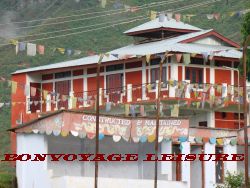 The other local attractions, which the tourists visit, are the National Yak Research Center (situated half-way between Dirang and Tawang). The Regional Apple Nursery & Kiwi Farms are situated across the river valley and one has to cross over through a small bridge.

The other famed tourist spot is the Hot Water Spring, which is also the main attraction for locals, who supposedly take bath in the Hot Springs as its water is said to possess curative properties.

Sangti Valley, located at 7 km from Diragng is one of the seasonal homes of the majestic creature called the black-necked crane that flies across from China and perhaps Leh, right into its laps. Locally termed as tung tung ka uk by the people. According to locals, the black-necked cranes, migrate in the valley during November and December, feeding and breeding during the winter months and then revert back to their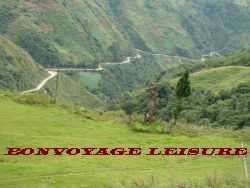 original homes along with their young ones during the months of April and May every year.
---