Gorumara - National Park Links
Gorumara National Park - Dooars :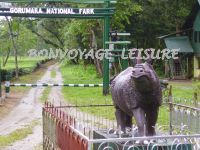 Gorumara National Park is a small forest area of around 80 sq. km located in Dooars region of Jalpaiguri district in West Bengal. Gorumara National Park is bordered by river Neora in the West and river Jaldhaka in the east . River Murti cutting through the jungle in the middle. The forest is famous for one-horned rhinos.
Gorumara was a Reserve forest since 1895. Later it was declared a Wild Life Sanctuary in 1949 for protecting and making a breeding ground for one horned rhinos. Finally in 1994 Gorumara was declared the National Park. Gorumara National Park is a significant watershed area between the Ganges and Brahmaputra river system. So the park has vegetation of riverine grasslands interspersed with savannah woodlands.
Bon Voyage Leisure has promoted and arranged Gorumara tour packages & Gorumara Jungle Safari along with developed Gorumara holiday packages for visiting and sightseeing tours in National Parks & surroundings like Chapramari Wildlife Sanctuary along with tourist places like Samsing, Suntaleykhola, Jhalung, Bindu, Chalsa, Dhupjhora Elephant Camp, Kalipur Eco Village etc .
Gorumara National Park Water Towers & Jungle Safari :
Jatraprasad Watch Tower / Rhino Observation Tower / Chandrachur ( Khunia) Watch Tower / Chukchuki Watch Tower / Medhla Watch Tower
Place to visit / Tourist destinations around Gorumara National Park :
Jhalung / Bindu / Samsing / Suntaleykhola / Chapramari Wild Life Sanctuary / Dhupjhora Elephant Camp ( Gachbari) / Kalipur Eco Village / Murti
Gorumara National Park - Dooars Tour Packages :
Gorumara National Park - Jaldapara National Park ( 04 Nights / 05 Days)
Gorumara National Park ( 02 Nights / 03 Days)
Gorumara National Park - Buxa Tiger Reserve ( 04 Nights / 05 Days)
Gorumara National Park - Jaldapara National Park - Buxa Tiger Reserve ( 06 Nights / 07 Days)
---