Buxa Tiger Reserve Links
Buxa Tiger Reserve - Dooars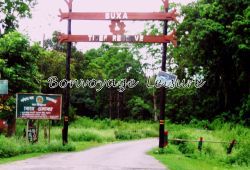 Buxa Tiger Reserve declared the 15th Tiger Reserve Forest in India in 1983 and became National Park in 1992. Located at the India – Bhutan border, Buxa Tiger Reserve covering 761 sq. km with 331 km core area is the largest forest in North Bengal. Buxa Tiger Reserve boasts for having second highest density of the famous Royal Bengal Tiger after Sundarban. Buxa Tiger Reserve consists of other forests like Rajabhatkhawa, Jayanti, Raimatang, Bhutanghat etc. Once Buxa Tiger Reserve was famous for dolomite mining.
Buxa Tiger Reserve lies in the eastern most corner of North Bengal. The northern boundary of Buxa Tiger Reserve goes along with Bhutan and Sinchula hills creates a natural border with Bhutan. Eastern boundary of Buxa Tiger Reserve touches the Manas National Park in Assam and NH 31C maintains the southern boundary. Phibsoo or Phipsoo Wild Life Sanctuary of Bhutan lies in the close proximity of Buxa Tiger Reserve in the northern side. Thus Buxa Tiger Reserve serves an international corridor for the elephant migration between Indian and Bhutan. Buxa Tiger Reserve encompasses as many as eight forest types. Buxa Tiger Reserve is the eastern most extension of extreme bio-diverse region and represents highly endemic Indo - Malayan region.
Buxa Tiger Reserve is also famous for the Buxa fort which is locate at an altitude of 867 mt above the sea level and was used as a prison for Indian Freedom Fighters during British rule. Main rivers of Buxa Tiger Reserve forest are Sankosh, Raidak, Jayanti, Churnia, Turturi, Phashkhawa, Dima and Naroni.
---