Places To Vist In Kolkata Links
Fort William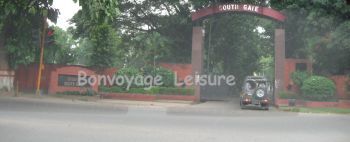 Fort William located on the eastern bank of river Hooghly and near to second Hooghly Bridge or Vivekanda Setu. Fort William is one of Kolkata's most enduring Raj Era edifice. The Fort was built under the supervision of Robert Clive. It took almost 23 yrs and 2 million Pounds to build the Fort William. Building was completed in 1781. Much of Fort William is unchanged except for the fact that the
St.Peter's Church which used to serve as a chaplaincy center for the British citizens of Kolkata no longer exists.
Today this magnificent fort located in the periphery of the lush green Maidan is the property of Indian Army. The headquarters of Eastern Command is based at Fort William and it has provisions for accommodating 10,000 army personnel. A trip inside this impregnable fort has history written all over. Fort William has the dubious distinction of being the only fort in the world from where not a single shot was fired.
If digs up the history of the Fort William, it is to be known that this colossal Fort was built out of " Fear Psychosis" of the British East India Company. In the history of Kolkata there were actually two Fort Williams in Kolkata. The old one and the new one. The old Fort William of Kolkata was established during the tenure of British East India Company in 1696, under the supervision of John Goldborough. In 1756, the then
Nawab of Bengal
,
Siraj Ud Daulah
, the then Nawab of Bengal attacked on the Fort, defeated the Britishers and temporarily conquered the city, and changed its name to Alinagar. This led the British to build a new fort in the Maidan.
---